SEASONAL FAVORITES
Check out some of our best sellers. You can't go wrong.
"BEST cotton cake ever! It's now a birthday tradition for my daughter to have one every September!"

"This beautiful Floof cake was done on time and tasted so delicious! You can taste every single flavor and it is so light and fluffy. The Floof cake also came with fun colored sprinkles which my kids loved!"

"The best cotton candy I've ever eaten! It is so perfect. Arrived completely perfect from across the country! I promise you will not be disappointed! It's sooooo good!"

"Floof Cotton Candy is so amazing! Everything this company makes looks beautiful and tastes amazing. Get yours now before everybody is ordering these!"

"We have had the strawberry (dye free) cotton candy cake for my daughters birthday party. Floof is such a lifesaver because my daughter has multiple food allergies and this is such a fun option she loves and doesn't have to miss out on anything."

"The cake was amazing in looks and flavor! It arrived a day before the event, perfect timing and was in amazing condition with beautiful, yet simple packaging. Overall best cotton candy I've had."

"Amazing cotton candy cake and amazing customer service!  Hannah went the extra mile to make sure our little one had her B Day cake on time and I can't thank her enough! Can't wait to buy my next cake here."

"Ordered a cake last year for my son's 7th bday. People are still talking about it!! We are in NY. The cake came quickly and packaged beautifully! Thinking about doing pops for part of the goody bags this year or "bacon" OR maybe another cake! Loved it!"

"Delicious cake! Clear and concise instructions on how to care for it. Arrived on time with shipping. Everyone loved it. The flavors were perfection. Will definitely buy again!"

"10/10 would recommend. My daughter and sister have both purchased cakes and they are so tasty and fun! Oh, and they keep for a few days. Normally, when you open a bag of cotton candy, you need to eat the entire bag in the same day but we were able to keep the cake fluffy for several days after the first slice."

"My boys LOVED their cotton candy cake! Other groups around our party stopped and asked where it was from. The kids at the party thought it was the coolest thing ever! Highly recommend!"

"The best cotton candy I have ever tasted. Kids and adults loved it! So fun and so unique! Definitely a must try!"

"Best way to celebrate! The cotton candy tastes WAY more delicious than your average cotton candy. The kids go wild when the cakes or push pops come out! And amazing for kids with allergies!"

"Fantastic cotton candy cakes, incredibly responsive owner. Highly highly highly recommend."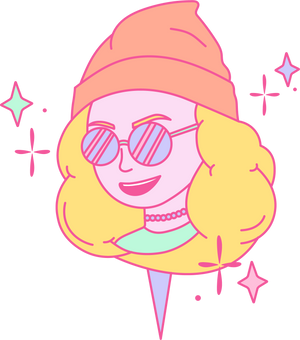 Vegan

Gluten Free

Dairy Free

Nut Free

Soy Free

Dye Free Available
The magical snowballs are baaaack! The elf on the shelf brought SNOWBALLS FROM THE NORTH POLE! This 32oz. tub is filled with sweet peppermint cotton candy snowballs with edible glitter sprinkled inside. They are so magical! We couldn't keep up with all of the orders last year so this year we are extra prepared and won't sell out!
-You don't need to pick a delivery date! The snowballs will be sent out throughout December and before Christmas Day. First come, first served. 
-PLEASE do not leave the lid open or snowballs out overnight :)